Translator's Workstation: CAT (computer-assisted translation) tool with Translation Memory & Integrated Terminology Management
for Windows 95 (and higher) and Windows NT

Now Version 2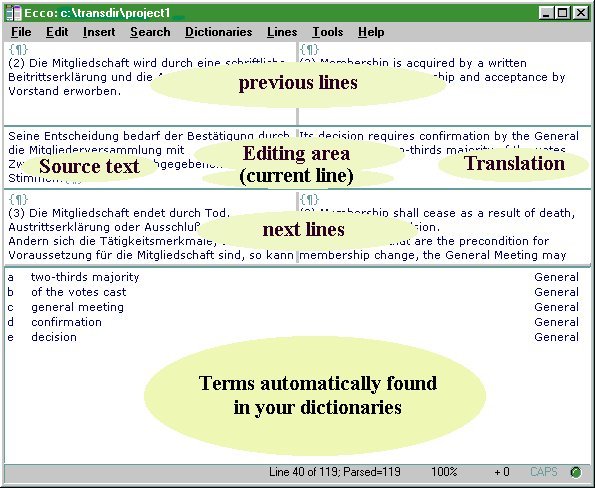 Ecco has been developed by a professional translator over a number of years to streamline working and improve translation quality. Now you can enjoy the same benefits, including:

Text processing functions geared specifically to translation

Greater consistency

No more missed sentences or paragraphs!
Ecco is great for repetitive texts - but with its Dictionary and text expansion macro features it's great for non-repetitive texts, too!

Here are just a few of Ecco's features:
Full-featured text editor with parallel text display (Source and Translation side by side).
Search in Source/Translation and see corresponding Translation/Source.

Integrated Dictionary Database (terminology management).

Create separate dictionaries for each language-subject combination..

Terms in your dictionaries are looked up automatically.

One-keystroke insertion of found term in text.

Translation memory (TM): match automatically (optional fuzzy matching) with existing translations, or search manually.

Import existing translations, either from separate source/translation files or from TMX files (generated by other TM tools: TMX is the industry-wide standard exchange format for TM, supported by all the leading TM products).

Export translations from Ecco in TMX format.

Intelligent Search-&-Replace.

One-keystroke Copy (all or part of current Source sentence to Translation).

One-keystroke number copying, or automatic copying of numbers (and codes).

ShiftNumber, ShiftDate, ShiftCase.

Text expansion macros (like Autocorrect, but more intelligent).

Automated transfer of documents between Ecco and Word for Windows™, preserving as much formatting as possible.

True 32-bit application, so no practical limitations on file size, size/number of dictionaries/dictionary entries/macros etc.

Fully integrated application, no expensive add-ons required.

Only USD 450 (incl. handling charge) for fully functional product: no hidden extras!
System requirements:
Windows 95 (or higher) or Windows NT
Colour monitor (at least 800 x 600 recommended)
Disk space required for program files: 1.7MB
RAM: 16MB recommended minimum (32MB is faster!)
Languages supported:

Ecco supports the "keyboard languages" installed on your Windows system (in Control Panel | Keyboard | Language), including those which use "non-Western" scripts (e.g. Cyrillic, Greek). Other languages (e.g. Chinese, Arabic) are not supported.

The Dictionary import/export and TMX import/export functions only support languages which use "Western" script (English, French, German, Italian, Spanish etc.).
---

For answers to Frequently Asked Questions, see FAQs
For a more detailed description, including a run-down of the new features in version 2, download the file Ecco.txt


---

To download an Evaluation Copy, please click on this link: Download evaluation copy of Ecco v.2 (1.4MB)

---

For Support and queries/comments, please click on this link: Support


---

Updates: if you already have Ecco version 1, you should download the evaluation copy using the link above. Before installing version 2, use Settings|Control Panel|Add/Remove Programs to remove Ecco version 1 from your system. Then install version 2 into the same directory, so that it uses your existing settings, dictionaries etc.. Updates (currently no updates to Version 2!)

---